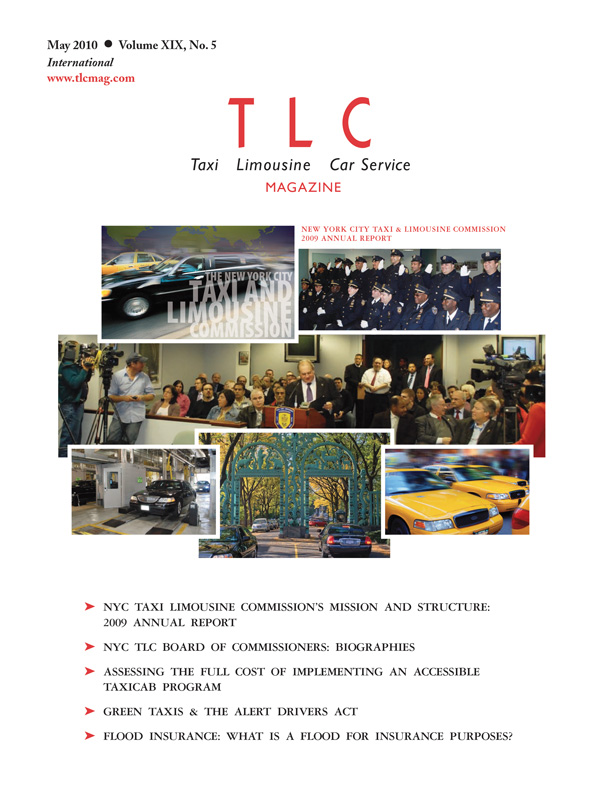 © 2013 TLC Magazine Online, Inc.
---
To Advertise Please Call:
Tel: (212) 757-2473

Ad copy can be mailed to:
TLC Magazine
Rockefeller Center Station, P.O.B. 5277
New York, NY 10185
or emailed to: editor@tlc-mag.com
MAY 2010
FEATURE ARTICLES

Flood Insurance: What Is a Flood For Insurance Purposes?
Green Taxis and the ALERT Drivers Act -
A Presentation Before the Air Ground Transportation Association (AGTA) in Washington, DC, by Matthew W. Daus, Esq.
TLPA: Assessing the Full Cost of Implementing An Accessible Taxicab Program—New TLPA/TLPF Publication Is Now Available
NYC Taxi and Limousine Commission Mission & Structure - 2009 Annual Report

TLC NEWS
TLC, DOT, EDC Announce RFP (Request for Proposals) For Dedicated Livery Stand at Staten Island Ferry Terminal
Reminder: Group Ride Service at Three Pilot Manhattan Group Ride Locations
Flat Fares for Group Rides Along Convenient Routes to Popular, Shared Destinations
TLC Board of Commissioners: Biographies
TLC Adding Saturday DMV Inspection Appointments for May 2010
COVER ILLUSTRATIONS & CREDITS
New York City Taxi and Llimousine Commission 2009 Annual Report
New York Taxi and Limousine Commission