CRASH AVOIDANCE TECHNOLOGY
HIGHWAY SAFETY RESEARCH & COMMUNICATIONS

1. What are crash avoidance technologies?

The term "crash avoidance" can encompass a wide variety of vehicle features designed to help the driver operate the vehicle safely. Vehicles increasingly offer advanced technologies that assist the driver with warnings or automatic braking to avoid a crash. These advanced technologies vary in their function and how they operate. In general, they monitor driver input and the environment around the vehicle. Using the information they gather, these technologies warn the driver when they detect the potential for a collision. In some cases, these technologies will also automatically brake or steer the vehicle if the driver does not take action to avoid the collision. Still others work by increasing braking power to help the driver react more effectively.


2. What kinds of crash avoidance technologies are currently available for passenger vehicles?

There are many vehicle features that could be considered crash avoidance technology. This list summarizes some of the most common or promising systems. This is not a comprehensive list of technologies as more are being developed and introduced each year. The descriptions are general and may not capture every variation of a given technology.

Forward collision warning and mitigation systems alert the driver when the vehicle is getting too close to one in front of it. Some systems are able to brake the vehicle if the driver doesn't stop or steer clear. These systems use various types of sensors, such as cameras, radar, or light detection and ranging (LIDAR) to detect vehicles in front of the vehicle. A forward collision warning system with autonomous braking may not always be able to fully prevent a crash but may help to reduce vehicle speed mitigating the severity of the crash.

Pedestrian detection is a subset of forward collision warning that is designed to recognize pedestrians. These systems use advanced algorithms coupled with some combination of sensors and cameras to spot people who are in or about to enter the vehicle's path.

In addition to providing driver warnings and/or autonomously braking, some forward collision warning systems may perform other functions to potentially reduce the severity of an imminent collision including precharging the brakes, pretensioning safety belts, closing windows, or adjusting seat positions or head restraints. These actions may help reduce the likelihood of injury if a crash occurs.

Another related feature is adaptive cruise control which is typically marketed as a convenience feature. As with regular cruise control the driver sets the desired speed. The difference is that the vehicle automatically slows down in heavy traffic without the driver having to do anything. Forward mounted sensors track the distance to a lead vehicle, and the engine and brakes are used to maintain a consistent headway time if traffic slows. As traffic speeds up the vehicle accelerates to maintain the preset cruise speed. Some systems allow drivers to adjust this headway time resulting in more or less conservative following distances.

Some vehicles also are equipped with night vision assist technologies. Night vision assist uses infrared imaging to produce an enhanced view of the road ahead.



Lane departure warning and prevention systems use cameras to track the vehicle's position within the lane alerting the driver if the vehicle is in danger of inadvertently straying across lane markings. Some systems use haptic warnings such as steering wheel or seat vibration while others use audible and/or visual warnings. Some systems cause the vehicle to actively resist moving out of the lane or help direct the vehicle back into the lane through light steering or braking.



Side view assist uses sensors to monitor the side of the vehicle for vehicles approaching blind spots. In many systems a visual alert appears on the sideview mirrors if a vehicle is detected. An audible alert may activate if the driver signals a turn and there is a vehicle in the blind spot on the turning side.



Park assist and backover prevention systems help drivers park and back up. Rear object detection systems use cameras and radar to look for objects located behind a vehicle when it is backing up and alert the driver. A cross traffic alert system uses radar to detect approaching vehicles that may cross the path of a vehicle backing up and warns the driver to their presence. Some parking assist systems also are capable of automatically parallel parking the vehicle.



Adaptive headlights help a driver see around a curve in darkness. The headlights are adjusted based on the speed of the vehicle, direction of the steering wheel, and other factors so that they are directed where the vehicle is heading.



Curve speed warning systems use a combination of GPS and digital maps to monitor vehicles as they approach bends in the road. If the system detects that the vehicle is approaching a curve at an unsafe speed that may result in a loss of control, it alerts the driver.



Fatigue warning systems often monitor the driver's eye blink rate and blink duration. Some use sophisticated algorithms that monitor driver steering and other behaviors. A system will alert the driver if it detects inattention or drowsiness.



Electronic stability control utilizes sensors and a microcomputer to monitor how well a vehicle responds to a driver's steering input. The system selectively applies the vehicle's brakes and modulates the engine power to keep the vehicle traveling along the path indicated by the steering wheel position.



Antilock brakes prevent wheels from locking up and skidding during hard braking by monitoring the speed of each wheel and automatically pulsing the brake pressure on any wheels where skidding is detected.

Image of car highlighting Electronic Stability Control (ESC) which maintians vehicle control; Forward Collision, which detects vehicles ahead, cautioning drivers of impending collisions; and Lane Departure Warning (LDW) which monitors lane markings on the road and cautions the driver of unintentional lane drift. 
Illustration: www.safercar.gov
3. How widely available are these crash avoidance features?

The vast majority of new vehicles are equipped with both antilock brakes and ESC. The following table shows which vehicle makes offer versions of four of the most common advanced crash avoidance technologies.
CRASH AVOIDANCE FEATURES AVAILABLE ON 2011 MODELS BY VEHICLE MAKE
| | | | | |
| --- | --- | --- | --- | --- |
| | | | Forward collision | |
| Acura | | | | |
| Audi | | | | |
| BMW | | | | |
| Buick | | | | |
| Cadillac | | | | |
| Chevrolet | | | | |
| Chrysler | | | | |
| Dodge | | | | |
| Ford | | | | |
| GMC | | | | |
| Honda | | | | |
| Hyundai | | | | |
| Infiniti | | | | |
| Jaguar | | | | |
| Jeep | | | | |
| Land Rover | | | | |
| Lexus | | | | |
| Lincoln | | | | |
| Mazda | | | | |
| Mercedes-Benz | | | | |
| Mercury | | | | |
| Mini | | | | |
| Nissan | | | | |
| Porsche | | | | |
| Rolls Royce | | | | |
| Saab | | | | |
| Toyota | | | | |
| Volkswagen | | | | |
| Volvo | | | | |

4. Do crash avoidance features reduce crashes?

The jury is still out on many advanced crash avoidance technologies which haven't been around long enough for researchers to analyze their effectiveness.

ESC is effective in reducing crashes. Institute researchers have found it reduces fatal single vehicle crash risk by 49 percent and fatal multiple vehicle crash risk by 20 percent for cars and SUVs.

One type of low speed forward collision avoidance system, Volvo's City Safety, also has been shown to be effective.
The feature is designed to help a driver avoid rear ending another vehicle in slow moving, heavy traffic.

The Highway Loss Data Institute examined insurance claims for 2010 Volvo XC60 SUVs equipped with City Safety and compared them with claims for other 2009-10 midsize luxury SUVs. The XC60s had 27 percent fewer claims under property damage liability coverage which pays for damage to vehicles that an at fault driver hits. There also were fewer claims under bodily injury liability coverage for injuries to people in other vehicles and collision coverage for damage to the insured vehicle.

On the other hand, antilock brakes are an example of a technology that hasn't panned out as expected. For reasons not completely understood, antilocks haven't had a significant effect on passenger vehicle crashes.


5. If the new technologies work as intended, how many crashes could they potentially prevent or mitigate?

If all passenger vehicles were equipped with forward collision warning, lane departure warning, side view assist, and adaptive headlights, about 1 in 3 fatal crashes and 1 out of 5 injury crashes could potentially be prevented or mitigated. Those numbers are from a 2010 Institute analysis and represent the best case scenario presuming the systems perform as advertised and drivers respond to them correctly. They reflect known limitations of crash avoidance systems available at the time of the study. However, they don't take into account potential reductions in effectiveness due to driver interactions with the systems.

In total, the technologies are relevant to 1.9 million crashes a year. Of all four features, current forward collision warning systems have the potential to prevent or mitigate the most crashes, and lane departure warning could come into play in the most fatal crashes. Pedestrian detection could potentially prevent or mitigate an additional 39,000 crashes including 2,932 fatal ones.

Another Institute study looked at crash avoidance technologies in large trucks. It found that side view assist, forward collision warning, lane departure warning, and ESC together could prevent or mitigate 107,000 large truck crashes a year including 835, or 1 out of 5, fatal ones. Of the four technologies side view assist is applicable to the largest number of crashes – 39,000 a year. ESC showed the most potential for fatal crashes possibly preventing or mitigating 439 fatal large truck crashes each year.

Several studies have looked at performance of these systems through field operational tests. A prototype forward collision warning system without automatic braking for passenger vehicles was field tested by 66 drivers for four weeks each. Based on the number of near crash scenarios identified, the system was projected to reduce rear end collision rates by 10 percent.

A field operational test looking at lane departure warning and curve speed warning systems estimated an annual reduction in road departure crashes of 9,400 to 74,800 if all vehicles were equipped with these systems and they worked as intended. During the field test, these systems weren't operational 45 percent of the time because of weather and other factors. At that rate, the total reduction in crashes drops to an estimated 5,200 to 41,200.

As crash avoidance technologies become increasingly common, more data will be available to determine how effective these systems really are in preventing or mitigating crashes.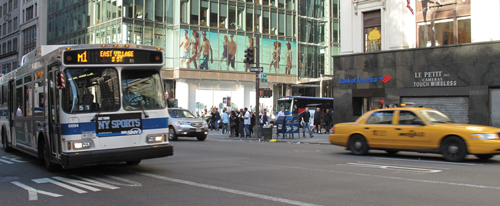 Photo: Elena Michaels
6. How do drivers respond to new crash avoidance features?

Appropriate driver responses and acceptance of crash avoidance technologies are critical to their success. If drivers find the systems annoying or not useful they may disable them. Similarly, if drivers experience warnings but don't understand them, are overwhelmed by them, or don't take an appropriate corrective action, then the systems will be ineffective.

A 2009 Institute survey of owners of Volvo and Infiniti vehicles with forward collision warning, side view assist, adaptive headlights, and lane departure warning found that, despite some annoyance, the majority of drivers left the systems turned on most of the time, felt the systems made them safer drivers, and would want them in their next vehicle. The use rate was lowest for Infiniti's lane departure prevention system, the one system studied that requires the driver to turn it on each time they start the vehicle.

One concern was that drivers might rely on the systems too much and feel freer to look away from the road or take other risks. The Institute study found both negative and positive effects of crash avoidance technologies on driver behavior:

nine percent of drivers with side view assist systems said they change lanes more often,



a small percentage of drivers with forward collision warning reported they look away from the road more often (5 percent) or follow the vehicle ahead more closely (2 percent), and



drivers with adaptive headlights reported a greater willingness to drive at night (40 percent) and to drive faster (18 percent),



almost half of the drivers with forward collision warning said they follow the vehicle ahead less closely, and



among owners with lane departure warning and/or prevention systems, 54-64 percent reported using their turn signals more often, and



67-71 percent said they drift from travel lanes less often.

Drivers who participated in a field operation test of crash avoidance technologies had favorable opinions of them. Seventy-two percent of the drivers said they would like to have the crash avoidance technologies in their personal vehicles.

Drivers preferred the lane departure warning and assist technologies over the forward collision warning and curve speed warning technologies in part because they issued false warnings less often. Drivers reported that they didn't rely on the technologies, and no increased involvement in distracting tasks such as eating or talking on a cellphone was observed.

Truck drivers who participated in a field operational test of multiple crash avoidance technologies also had favorable opinions of the technology. Fifteen out of the 18 drivers preferred driving a truck equipped with the integrated warning systems over a conventional truck and stated that the technologies made them more aware of the environment around the vehicle as well as their position in the lane. There was no observed increase in a driver's likelihood of engaging in distracting tasks while driving trucks equipped with crash avoidance technologies. A few drivers began ignoring warnings as a result of a high number of false alarms.


7. What are some of the limitations of crash avoidance technologies?

Many crash avoidance technologies rely on drivers to take action. The effectiveness of these systems depends on whether drivers accept the technologies and respond appropriately. This is especially true for warning systems since a warning is useless if it's ignored. If drivers find the systems annoying, overwhelming, or unhelpful, they may disable them.

In addition to driver challenges there can be limitations in the technology itself. For example, lane departure warning systems rely on the ability of the sensors to register lane markings which may be problematic on roads that aren't well marked or are covered with snow.

In a field test of a prototype road departure warning system the system was available 76 percent of the time on freeways compared with 36 percent of the time on non-freeways. Sensors such as cameras, radar, and LIDAR also may be influenced by environmental factors such as lighting or precipitation. In the same study the lane departure warning system was available 56 percent of the time during dry, daytime conditions and only 4 percent of the time during wet, nighttime conditions. Most current systems struggle to detect the outside environment in low light or inclement weather.
Some systems only work at certain speeds. Other systems don't operate until turned on by the driver. Systems that rely on GPS to monitor the car's location, such as curve speed warning, are limited by the accuracy and availability of the digital maps.


8. What other kinds of crash avoidance technologies can we expect in the future?

The landscape of in-vehicle technologies is rapidly changing as new features continue to be introduced. Advances also are being made in intelligent transportation systems that allow vehicles to communicate with one another or with the roadway infrastructure:

Vehicle-to-vehicle (V2V) and vehicle-to-infrastructure (V2I) communications are prototype safety systems in which vehicles and roadway infrastructure communicate over a wireless network. Drivers can then use this information to help avoid crashes.



With V2V communication, vehicles transmit information regarding their actions to other vehicles. For example, in a long chain of vehicles, if the lead vehicle suddenly brakes, this information will be transmitted to every other vehicle in the chain so that the other drivers are alerted. It also could be possible for the trailing vehicles to automatically begin braking when the lead vehicle's signal is received.




With V2I communication cars receive and transmit information to roadway infrastructure. For example, highway systems could monitor vehicle location within a lane. If the vehicle is detected drifting out of a lane the system could alert the vehicle. In urban environments signal lights can alert vehicles to when they will change so drivers can prepare to stop.



A consortium of automakers known as the Crash Avoidance Metrics Partnership (CAMP) is developing V2V and V2I technology that can work across multiple makes of vehicles. NHTSA plans to select one U.S. city in 2012 to deploy 1,500-3,000 V2V vehicles, along with V2I infrastructure, to test the functionality and reliability of these technologies. If the pilot test proves successful, some manufacturers expect that these technologies could appear in production models as early as 2015.

These technologies, along with other in-vehicle systems to control the engine, brakes, and steering, could lead to more autonomous driving.


9. Where can consumers get information on available crash avoidance features when shopping for a vehicle?

The Institute requires all passenger vehicles to have ESC in order to be eligible for a TOP SAFETY PICK award.

The federal government is recognizing the potential importance of three crash avoidance systems – ESC, forward collision warning, and lane departure warning – by incorporating them into its New Car Assessment Program. Vehicles are credited with having one of these systems if their system can pass specified track tests. However, at this time there are no definitive studies indicating that systems that don't pass the tests are ineffective or that ones that do pass the tests are working better to reduce real crashes.
---
© 2013 TLC Magazine Online, Inc.