511NY: TRAFFIC, TRAVEL, AND TRANSIT INFORMATION
511NY provides information on:
Emergency alerts about major transportation problems


Traffic conditions, camera images, speeds


Work zones and construction reports


Major crossing conditions


Transit conditions


Weather conditions and forecasts


Transit trip planning (door to door)


Transit services


Intercity bus and rail services


Paratransit services


Carpools and vanpools


Park-and-ride lot locations


Airports and airport access services


Ferries, tunnels and bridges


Commercial vehicle information


Bicycling


Toll information


Weather condition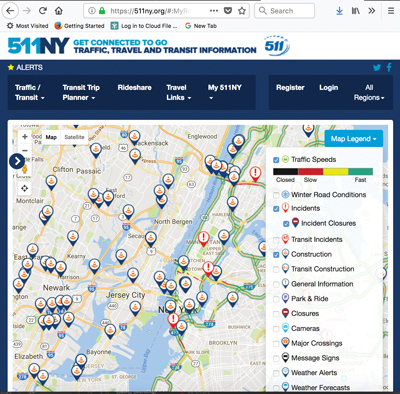 What is the extent of information in the 511NY system?

511NY covers the transportation system and services throughout New York State. Major state highways are covered statewide and major county and local highways are included in the New York City area. Public transportation services throughout the state are featured. Major events occurring on local roads will be described in the 511 system if they have been reported to us.

The phone system has nine different menus tailored to the regions shown in the following map, reflecting differences in the availability of services and information needs around the state.

Where does the information originate?

The information in the 511NY system comes from many transportation and police agencies in New York and surrounding states. Traffic management centers monitor and provide traffic condition information to the 511NY system.

Staffs at these centers receive highway condition information from police and transportation officials, motorist assistance patrol drivers, 911 calls, construction crews, traffic cameras and roadway sensors.

Transit information comes from public transportation agencies. Weather conditions, forecast information and alerts are provided by the National Weather Service.


How current is the information?

Information on traffic or transit conditions changes all the time.
Speed data and camera images are updated continuously. Camera images are updated as quickly as the camera system allows; every 30 seconds in some cases and every 60 seconds or more in other cases.


Information on incidents is updated by agency staff as conditions are reported from the scene.


Information on road construction and maintenance is updated as new work is started or completed, or as travel conditions change.


Winter roadway conditions are updated at least every four hours during winter months and more frequently during storms.


Other information, such as construction projects or transit schedule changes, is updated as soon as this information becomes available.


Agency contact information changes infrequently.


How does 511NY differ from the travel information on the radio and television?

511NY is another information source for travelers that complements radio and TV broadcasts. With 511NY you can expect to receive more detailed, current and route-specific traffic information than is provided in a short, general traffic news slot. You can get the 511NY information whenever you need it. Beyond this, the 511NY system offers a broad range of information on transit service, transit trip planning, carpooling and many other services not covered by the media.


The route I will be using passes through New York and another state. Is there a way I can get information easily on both?

For the metropolitan New York City area, 511NY also will provide information about northern New Jersey and southwestern Connecticut. Statewide 511 services are provided in New Jersey and Vermont. Quebec has a 511 service throughout its province. 511NY users will be able to transfer directly to these services from 511NY. Other states may be contacted by phone or Web site.

How will 511 differ from 911 and 311 phone services?

Here are the three digit service numbers adopted by the telephone industry and the Federal Communications Commission:

211
Health &
Human Services
Community information and referral services
311
Local Government Services
Non-emergency police and other government services. Available in NYC, Rochester and Buffalo.
411
Directory Assistance
Fee-based telephone number inquiries
511
Travel and Transportation
Free. Available in many states.
711
Telecom
Relay Services
Allows people with hearing or speech impairments to communicate via a communications assistant
811
Excavation
"Know what's below. Call before you dig."
911
Emergency Services
Report police, fire or medical emergencies

What are incidents?

Incidents disrupt the normal flow of traffic or transit services, including accidents, vehicle breakdowns and road debris. In extreme cases, incidents may require a roadway to be closed.


Can there be delays without an incident?

Delays also can occur because of special events, construction advisories, bad weather conditions or high traffic volume.


What if I want to know about an alternate route to avoid an incident reported on 511NY? How can I get this information from 511NY?

Ask the 511NY phone system about conditions on the alternate route you are considering, or view the roadways for closures, incidents, construction and current traffic speeds.


Why aren't there cameras, message signs and speed information available on all roadways?

Cameras, signs and sensors are installed along roads with the most traffic; primarily on major routes like interstates and state maintained highways. Traffic patterns are reviewed periodically to determine where additional equipment should be installed.


Why are electronic message signs blank most of the time?

These signs are blank when conditions are normal and are used only when there is a problem, such as an accident, disabled vehicle, construction, road closure or another condition.


ALERTS AND ELECTRONIC NOTIFICATIONS

What are the scrolling alerts on the 511NY Web site?

The alerts are warnings or information about major incidents affecting the transportation system in the state. To get alerts for a specific region, select the region from the Region drop-down list located on the top right.


How do scrolling alerts differ from TransAlerts and closures?

The scrolling alerts are Closures or Incidents in the events list that have been rated extreme or severe and do not appear as a separate category. Our TransAlert notification service draws on the same pool of incidents and closures. While the scrolling alerts only show the most significant events, the TransAlert service lets you pick the event severity level, including events that are moderately disruptive.


If I select My Customized Alerts, what information can I customize?

Select My Customized Alerts to the right of the scrolling banner to limit the alerts reported to just one of the regions displayed in the drop-down list.


If I do not choose to select My Customized Alerts, what information is displayed?

Unless you choose one region in My Customized Alerts all alerts in the state that are in effect will be shown.

Is there a way I can get notified when an alert occurs?

Yes! Sign up as a TransAlert subscriber to get information about major incidents affecting transportation in regions or routes you specify. You will receive short e-mail cell or cell phone text messages in near real time with information about an incident's location, nature, severity and other important information. Alerts will be updated during the course of an incident, as necessary.
TransAlerts are issued only for the most serious and unexpected events that have a high degree of impact on travel. This can include incidents on highway, rail or aviation systems. For further information, visit our TransAlert FAQs. To subscribe, visit NY-ALERT Subscribe.


What are the laws in New York State about accessing text messages while driving?

Effective November 1, 2009, the use of portable electronic devices by drivers of motor vehicles is prohibited. If you use a portable electronic device (such as a mobile telephone, smart phone, Blackberry or iPhone) to send or receive text messages or e-mails, you may receive a traffic ticket and pay a fine of $150.

Please remember to drive responsibly. If you need to use your device to access 511NY en route, pull off to a safe area such as a rest area, fueling station or other stopping point, or have a passenger access the information for you. Remember, it is illegal to park your vehicle on the shoulder of an interstate highway unless there is an emergency.


MOBILE SERVICES

Is there a 511NY mobile web service?

The 511NY website is developed to be responsive and provides an optimal viewing experience across all devices including PC, tablets and smartphones. Users can browse to http://511ny.org from any device to have access to the complete set of features on 511NY.


What is 511NY Mobile Web?

The 511NY Mobile Web offers up to the minute real time information on traffic, transit and travel conditions. The mobile web can be accessed from a browser on your iPhone, Google Android, or other smart phone device.


What services are provided?

The mobile web provides traffic & transit information as well as a trip planner. Incident, construction, special event and speed information is also viewable. Users can access cameras, weather forecasts & alerts, and get travel times for bridges
and tunnels.


Is there a cost to access the Mobile Web?

The service is a free. However, the cost to access this information is dependent on the Internet / data plan you have with your mobile service provider - typically a monthly access fee.


Is there a 511NY mobile app? What devices can I use the 511NY Mobile Application on?

511NY currently provides the application on the Blackberry, iPhone, and Android devices. Please remember, NYS Law prohibits using mobile devices while operating a motor vehicle. When using electronic devices while traveling, remember to drive responsibly and know before you go! Have a passenger check the information for you or pull off to a safe place, like a rest area, before using those devices.

What are the requirements for use on my device?

The 511NY Mobile Application is supported on the following mobile devices:

iPhone or iPod Touch (versions v4.x and 5.0)

Android (2.x, 2.3, 3.0 and 3.1)


Where can I find the 511NY app?

The iPhone and iPod Touch application is available through iTunes.

The Android application is available through Google Play.


Is there a charge to access this application?

No, the 511NY app is a free service of the New York State Department of Transportation.


PHONE SYSTEM ACCESS
When can I call the 511NY system?

The 511 phone service is available 24 hours a day, seven days a week.


How much does it cost to make a 511NY call?

511NY does not charge for the call. Calling 511NY from a landline phone will cost the same as making a local call. If you use a cell phone, airtime and roaming charges may apply.


Will I be able to call 511NY anywhere in the state?

511NY is available all across New York State. Telephone service providers will need to establish the ability to route 511NY calls to the system. Contact your telephone company if you are unable to reach the 511NY service.


How does the phone system know the location from which I am calling?

The New York 511 phone system will either identify your telephone prefix when you use a landline phone or the communications tower that your wireless phone is connected to when you call. Knowing your calling location allows the 511NY system to provide information specific to that area of the state.


What languages does the 511NY system use?

Information in the 511NY phone system and Web site is presented in English.


Will my call be dropped if it can not be transferred to another system?

No, the New York 511 service will keep you on the line until your call is successfully transferred to a partner agency when you select this option.


Can I use my Internet phone (Voice Over IP/VoIP) to call 511NY?

This depends on whether your provider offers an address translation service primarily used to identify your location for 911 or E911. If so, when you call 511NY your call will be routed to the 511NY system if your registered address is in New York State.

The following VoIP carriers provide this address translation service: AT&T Wireless, AT&T Wireline, Frontier Communications, OneCommunications, Sprint (Including Nextel), T-Mobile, Verizon Wireless, Verizon Wireline.


Can I call the 511NY service using a cell phone while I'm driving?

Use of a hand-held mobile telephone while driving is prohibited by New York State Law. If you use a hand-held mobile telephone while you drive, except to call 911 or to contact medical, fire or police personnel about an emergency, you may receive a traffic ticket and pay a maximum fine of $100 and mandatory surcharges of $50.

Use of a hands-free microphone is all right but put safety first. Call 511NY before you leave. If you do need to call 511NY en route, call from a rest area, fueling station or other stopping point, or have a passenger make the call for you. Remember, it is illegal to park your vehicle on the shoulder of an interstate highway unless there is an emergency. Please visit the New York State Governor's Traffic Safety Committee page for more information.


Does 511NY have an 800 number option?

Yes. Call 888-GO511NY (888-465-1169).


What if the system is busy when I call?

With 511NY, your call will always be answered. If there is an unusually high volume of calls when you called, your call will be put in a queue to interact with the system. We are monitoring call volumes and will add capacity if needed.


How can I reach New York's 511 service from outside the state?

The New York 511 service can be reached through these toll-free numbers:
| | |
| --- | --- |
| 800 number | Region Name |
| 877-690-5110 | New York State |
| 877-690-5111 | Adirondack |
| 877-690-5112 | Capital Region/Albany |
| 877-690-5113 | Niagara/Buffalo |
| 877-690-5114 | Hudson Valley/ Catskill |
| 877-690-5115 | Long Island |
| 877-690-5116 | New York Metro |
| 877-690-5117 | Rochester |
| 877-690-5118 | Southern Tier |
| 877-690-5119 | Central/Syracuse |

How can I connect to other 511 telephone services?

511NY will transfer your call to travel information services in New Jersey, Quebec or Vermont depending on the 511NY calling region menu you are using. The 511NY region must be adjacent to the state or province. If transfers are enabled, say "Other 511 Systems" at the Main Menu.


What do I do when the system do not understand what I am saying?

511NY uses a state-of-the-art voice recognition system to guide you through the menu options. The system might have a difficulty responding to your request if:
you said something it is not programmed to recognize at that particular menu;


it cannot understand your voice; or


there is background noise, such as a radio or people talking near you, that prevents the system from understanding you.

Reduce background noise and speak as clearly as possible in a normal tone of voice. If you are using a cell phone and you have a low signal, try calling back when you get a better one. If you still have problems, use numeric touch tone commands.


How do I use the phone system if I am hearing-impaired?

Hearing impaired callers can dial 711 or visit http://www.i711/com for assistance on-line to access 511NY information. 711 is the national three digit number for access to Telecommunication Relay Services (TRS).

Callers dial 711 and ask the operator to connect them to the 511 service. Once connected, the 711 operator acts as a go between, relaying callers' request for travel information to the 511 system and then providing system responses back to
the callers.


How do I use the phone system if I am speech impaired?

Speech impaired callers can use the touch-tone system to access information from the 511 system. Press "0" at each new menu to hear the touch-tone options, then press the number that matches your choice. Once you learn the touch-tones, there is no need to press zero to hear the list of choices. Just enter your selection.

PHONE TIPS

Can I speak to an operator to get information?

The 511NY phone service is an automated, interactive voice system driven by the user's voice or phone keys. Voice recordings will give the latest computerized information. There are options to transfer to a specific transportation agency for additional information not offered directly through the 511NY phone system.


How do I get help?

Say, "Help" or "What are my choices?" at any time to hear your options for the current menu. To return to a previous menu, say, "Go back." To start over, say "Main Menu."


Main Menu Choices

Just press "0" at each menu to hear menu choices and touch tone codes. The nine 511NY calling regions have some differences in their phone system menus.
Say
Press
What it Does
Traffic
1
Get information about closures and major incidents on the facilities you select.
Public Transportation
2
Link to a public transportation service or learn about current transit incidents.
Paratransit
3
Connect to a service provider.
Ride share
4
Connect to a ride-sharing service.
Airports
5
Connect to an airport or airport access service.
Other 511 Systems
Depends
Choose another neighboring 511 system.
Switch Regions
Depends
Transfer to another 511NY calling region
MTA Shortcuts
(Downstate Regions)
9
Link to one of the 13 customer support services provided by the MTA.
Option not available
77
Give us your feedback.

PHONE TIPS
What browsers are supported?

Internet Explorer 9 and higher, latest versions of Firefox/Chrome/Safari.


What information is shown on the Traffic and Transit Conditions Map?

Weather Forecast

Click on the weather icon to get the National Weather Service forecast for the next seven days. This will display for 13 different forecast zones around New York State.

Weather Alerts

Click on the alert icon to see the latest weather alert issued by the NWS (if an alert is in effect) and time the alert was issued or updated.


Incidents

An incident describes something that disrupts traffic or transit flow, traffic, such as an accident, vehicle breakdown or road debris.

Move your mouse over the icon to display the location of an incident. Click on the icon for detailed information including the time of the last update.

Special Events

Special Events are planned activities such as concerts, bicycle races, festivals, fairs, etc. that impact traffic. Advisory messages present the name of the event, date, time, location and traffic impacts.

Major Crossings

Mouse-over an icon to see the name of the bridge or tunnel. Click on an icon to show the current river crossing times by direction of travel.


Construction

Icons show active traffic and transit construction projects.

Mouse-over an icon for information on project location.Click on it to learn more about traffic impacts, timing and duration.

Cameras

View pictures of current traffic conditions from the location chosen. Mouse-over a camera icon for a description of the camera's location. Click on it to display the camera image, location, operating agency logo and camera direction.

Speeds

Select Speeds to see the average speed of traffic at roadside traffic detectors locations. Colored dots show detector locations and speed range of traffic. Mouse-over a dot to get information on location, traffic level, average traffic speed and time of the last update.

Message Signs

View text from Message Signs. Mouse-over a message sign to get its location, message content, and time of the last update.

General Info

View general information that may impact traffic (i.e. a political demonstration).


Rest Area Info

View information on rest areas and travel plazas across the state. Get information on location, hours of operation and facilities.


Rest area closed.
Truck Restrictions

View information on truck height and load limits for various roadways.


Closures

View information on closure due to incident for various roadways.

View information on closure due to construction for various roadways.

View information on closure due to special event for various roadways.