Kansas City Businessman to
Head National Transportation Group
Terry O'Toole of Kansas City Transportation Group Elected President of Nation's Oldest Fleet Industry Trade Association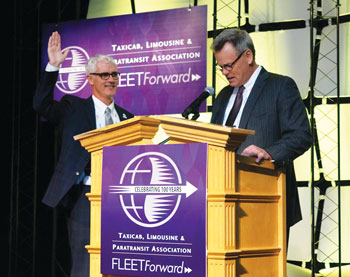 (LAS VEGAS, Nevada)–At the TLPA 100TH Annual Convention and Trade Show, October 27–29 2018, in Las Vegas, Kansas City transportation executive Terry O'Toole was elected as the new president of the Taxicab, Limousine & Paratransit Association (TLPA), a century old trade group that represents the interests of for–hire fleet operators across the world.
O'Toole was elected overwhelmingly by voice vote from the rank–and–file membership at the venerable trade association's 100th Annual Convention & Trade Show in Las Vegas. He was immediately sworn in and will serve a one year term until October 2019.
In his acceptance speech, O'Toole outlined his platform for presidency, which includes implementing a new strategic plan for the association. The new plan is aimed at broadening membership, expanding member services, improving driver professionalism, and honing TLPA's leadership as a unified voice of the industry.
"The transportation landscape is expanding, not shrinking," O'Toole said. "Our industry is evolving in exciting ways that are filled with opportunity. With an invigorated association, and with the incredible knowledge and know–how of our members, our industry will thrive in the years ahead."
The transportation industry has been a part of O'Toole's family history dating back to the late 1800s when his great grandfather and his brothers owned street cars in Kansas City. While O'Toole did not grow up in the industry, he became general manager for Kansas City Transportation, owned by businessman Bill George, in 2001.

"Bill encouraged me to experiment with ideas to see what worked," O'Toole said. "He also taught me that this business is about people, and about how you treat people, whether drivers, or employees or customers. They are all equally important in the chain."
President Delivers Strategic Plan to TLPA Members Year of Planning Culminates in New Road Map for Nation's Oldest Transportation Association
(LAS VEGAS, Nevada)–The nation's oldest and largest transportation association of its kind took the first step on its new path after its president unveiled the group's new strategic plan.
Mike Pinckard, who steps down today at the end of his one year term, made strategic planning a central part of his 2017–2018 presidency of the Taxicab, Limousine & Paratransit Association (TLPA).
"TLPA will be the go–to resource for a wider audience than ever before, and with a perspective that shapes today's transportation world," said Pinckard, who delivered his final address to association members as they gathered for the group's landmark 100th Annual Convention & Trade Show in Las Vegas., October 27–29 2018.
After a year of thought provoking planning sessions to identify the road ahead into the next decades, the TLPA's vision for the future now rests on four key pillars:
Expanding membership by "broadening the tent" to include a more diverse cross section of industry stakeholders and thought leaders.
Leading the industry with strategies for increased safety, convenience and sustainable environmental practices.
Identifying the best innovative practices that increase members' profitability.
Enhancing drivers' image and performance.
Four committees are now tasked with implementing TLPA's strategic plan:
The Executive Committee will focus on making sure the association thrives and remains a unified voice for the industry;
The Member Services Committee will create programs for members that improve service delivery and create competitive advantages;
The Advocacy, Policy, and Government Relations Committee will shape the future of Mobility–as–a–Service to promote diversified business models; and
The Driver Workforce Development Committee will lead efforts to make the driving profession a rewarding and financially viable career.
Hal Morgan and his wife Connie. The TLPF (Taxicab, Limousine & Paratransit Foundation) established the "Harold E. Morgan Fund" in his name to honor his 25 years of service to the industry.

A group of members from around the country on the floor of the Transportation Solutions MarketPlace.
The MarketPlace floor.
About TLPA:
Established in 1917, the Taxicab, Limousine & Paratransit Association (TLPA) is a nonprofit trade association that represents the owners and managers of taxicab, limousine, sedan, airport shuttle, paratransit and nonemergency medical fleets. TLPA's member companies operate more than 100,000 passenger vehicles and transport more than 900 million passengers annually. For more information, please visit www.tlpa.org.